By Lori Monte | The Kitchen Whisperer
Recipe for Vegetable Medley Soup Mix with the Dehydrator
Enjoy the tastes of summer all year long with this colorful and easy-to-store soup. Once dried, this lightweight meal is quick to prepare – perfect for hiking or camping. Or seal in jars and store in your pantry for a mid-winter burst of vegetables. You can dry a large batch of vegetables and package individually in vacuum sealed bags or containers. Low temperature dehydration in the SAHARA dehydrator is the best way to maintain the taste and nutritive value of the fresh ingredients. Use the automated dual time and temperature controls to speed drying time without overheating. Keep your dehydrator running all summer long when your kitchen is overflowing with garden and farmers market vegetables. When the season comes to an end you will be glad you did.
Ingredients: *Note: Asparagus and carrots should be blanched prior to dehydration for 4 minutes. Peppers and zucchini blanched for 2 minutes. The broccoli should be blanched for only 30 seconds.
1 15 ounce can Cannellini beans drained and dried with a towel
2 large beefsteak tomatoes chopped in 1/2" pieces
2 large bell peppers chopped in 1/2" pieces
2 small zucchinis cut into 1/4" slices
1 large carrot cut into 1/4" slices
1 small head of broccoli cut into medium florets
1 large bunch of asparagus cut into 2" slices
2 cups dried pasta shells, *see step 3 in the instructions below
1 teaspoon each: dried oregano, parsley, basil, onion powder
1 1/2 tsp kosher salt
1/2 teaspoon each: black pepper, garlic powder
Pinch red pepper flakes *optional
3 Tablespoons vegetable, chicken, or beef base (bouillon powder) – LOW SODIUM
10 cups of water, divided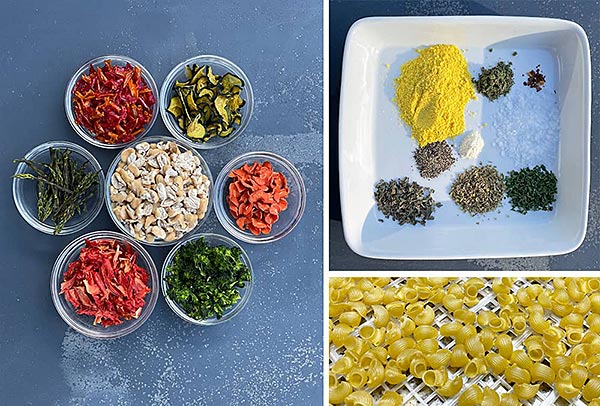 Yield: Two recipes with 4-5 servings of soup per recipe.
Time & Temperature: Dehydrate at 57 °C for 10-12 hours or until the vegetables are completely dried. 
Equipment: SAHARA Folding Dehydrator.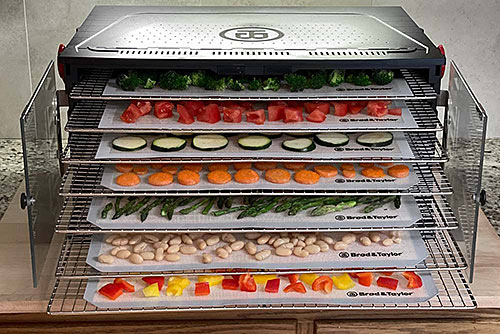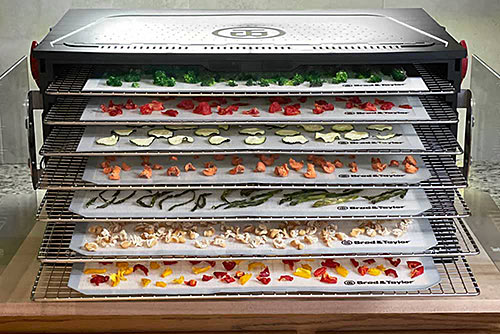 Instructions:
1. To the vegetables, set up the Brod & Taylor Sahara Dehydrator. To each rac dehydrate k, add vegetables in a single layer without overlapping. Use of silicone drying mats is optional, but it can help prevent vegetables from sticking or falling through the wire racks. 
2. Dehydrate at 57 °C for 10-12 hours or until the vegetables are completely dried.
*Some may dry faster than others. Simply remove the rack from the dehydrator and store until the rest are done.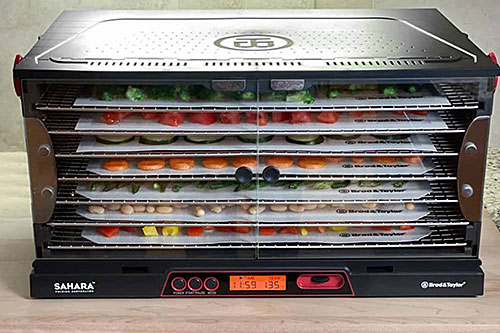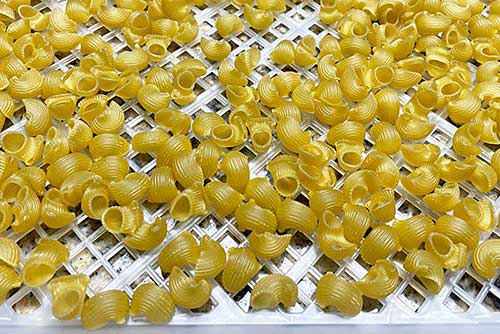 3. If preparing for camping, pre-cook the pasta for faster rehydration. Cook pasta separately per instructions (al dente). Transfer to cold water to stop cooking, then drain and spread on silicone drying mat. Dehydrate at 60 °C for 3 hours. Package separately from the vegetables.
4. While the vegetables are dehydrating, mix all of the seasonings and bouillon powder together. To package, evenly divide the dehydrated vegetables, pasta, and seasoning mixture between 2-quart mason jars for long-term storage or 2 resealable bags for quick use and travel/hiking/camping. If storing long term, seal the jar with a preferred sealing machine.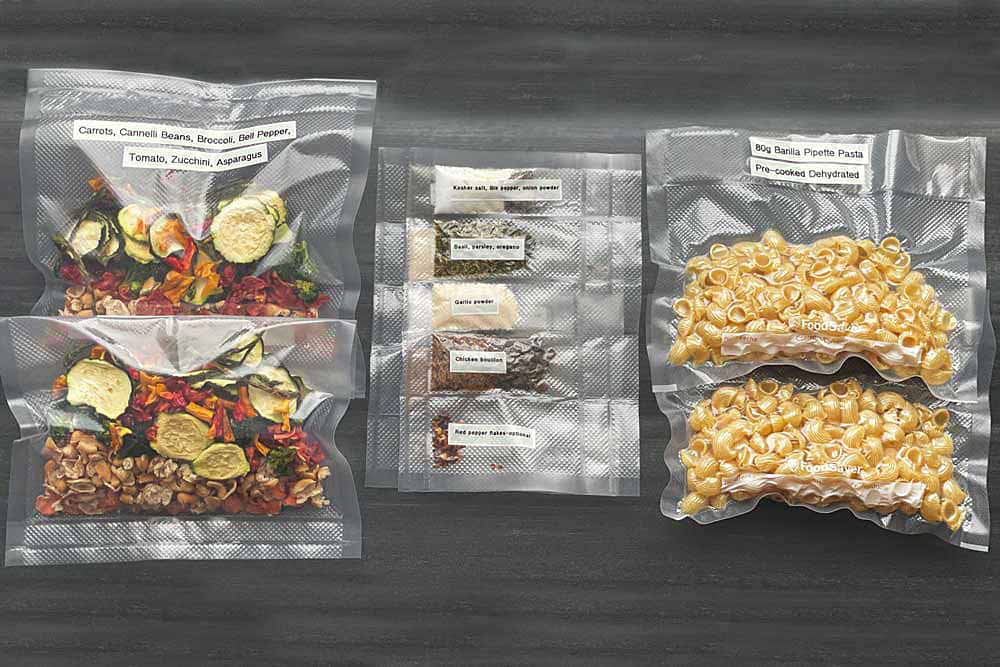 Each set (3 different vacuum-sealed packages) of dehydrated soup mix weighs 7 ounces / 200g.
5. In a large pot add half of the water (about 5 cups), the contents of one packet of dehydrated vegetables, and one packet of all the spices. Bring to a boil then reduce the heat to a simmer for 7-9 minutes until the vegetables have rehydrated.
Add one packet of the pre-cooked pasta, making sure there is enough simmering water to cover the pasta. Simmer the pasta just until soft and rehydrated.
*If necessary, add more water while cooking.